Forget the tradition image of holidaying in India being all about backpacking, long train journeys and 'Delhi belly'. If you head to the desert state of Rajasthan in India's north west corner you'll find plenty of luxurious travel experiences. We Byrnes' decided to pick the state, which recently played host to TRH The Duke and Duchess of Cambridge, as it's home to majestic palaces, impressive hilltop fortresses, and stunning cities such as Jaipur (The Pink City), Jodphur (The Blue City) and Udaipur (The White City).
Most visitors will spend a few days in New Delhi acclimatising before setting off to explore Rajasthan. We checked into the Leela Palace (where Tom Cruise and Barack Obama have stayed), located in the Diplomatic Enclave – one of the prettiest, leafiest and quietest suburbs of the capital city. From our luxurious suite we enjoyed incredible views of the hotel's lush gardens and sprawling city with the occasional colourful carnival going past in the streets below. Sightseeing in New Delhi is hot and dusty work so knowing you can come back for a dip in hotel's rooftop infinity pool is a huge bonus – though it proved a struggle to get our eight-year-old daughter Brontë out of there!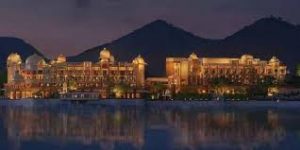 Once out and about if you fancy sampling street food try the delicious palak ke parkore (crispy fritters made from spinach and red chillies) and dahl bhalla made from potato cubes and cooked chickpeas. However, if you'd rather play safe, The Qube at the Leela Palace, housed in a giant glasshouse is a stylish place to try Indian cuisine as well as watch the drama of a 'live' kitchen. We enjoyed a veritable feast of mutton rogan josh, lamb biriani, and butter chicken curries, all washed down with superb Indian Sauvignon Blanc.
If it's an option I'd highly recommend asking the hotel concierge to book a personal guide and chauffeur to explore New Delhi in style and comfort. Our lovely driver Sanjeev negotiated the busy streets, while we were able to listen to our guide Muneer as we sped towards the Red Fort, a 17th century red sandstone complex built by the same Mughal emperor that created the Taj Mahal. After exploring the incredible fort, we set off on a thrilling, crazy rickshaw ride through the chaotic lanes of Old Delhi where the crowded streets are jammed with motorbikes and lined with butchers' shops, sari stalls and street food vendors.
Being a confirmed shopperholic it was great to discover that New Delhi is a shopper's paradise brimming with malls and markets, bazaars and boutiques. A good one-stop shop for regional handicrafts is Dilli Haat, a market in the city's south west selling textiles, pottery, leatherware and food. If you're looking for silver jewellery, then the Janpath street market, close to Connaught Place, is fabulous. Expats and affluent Indians flock to Khan Market, close to India Gate, where you'll can find brand name labels – such as Tommy Hilfiger, Nike and Reebok – often cheaper than back home due to flaws or end-of-line stock but be warned there are no changing rooms so it's a bit of a gamble with sizes.
After a few days in the busy metropolis, we took a flight two hours south to Udaipur, and after a short taxi ride we arrived at the edge of Lake Pichola, the same lake that appeared in the Bond movie Octopussy. Here we boarded a beautiful canopied wooden boat that motored across to our hotel, Leela Palace Udaipur – resembling a Rajasthani palace (all domes, marble, ornate tiles and water features). We were met by staff wearing traditional costumes in burnt red and orange topped with crimson turbans who showered us with rose petals. Every morning from our Lake Side Suite we would watch the sun rise over the Aravelli Mountains before heading to our outdoor yoga session, even my husband David partook!
Dining on the black and white tiled terrace at Sheeh Mahal, looking across the lake to the majestic City Palace and twinkling lights of Udaipur, is truly romantic. Come evening, The Leela is transformed into a dreamy lantern-lit fairytale where you can listen to the rhythmic sounds of a traditional Rajasthani folk band, watch energetic sword dances, or just search out stars with the hotel's astrologer.
In Udaipur, our guide Suresh, who'd also guided actresses, York born Dame Judi Dench and Dame Maggie Smith, took us to view some ornate sculptures at the 10th century Sahastrabahu Temples as well as to Sri Eklingii, an inspiring complex of 108 temples and shrines. Udaipur is a city of palaces (the lake side City Palace comprises 11 palaces as well as an art museum and collection of Rolls-Royces), ancient temples, forts, bazaars (Bapu Bazaar is popular with tourists) and crowded streets full of rickshaws, motorbikes, the odd elephant or cow. It's truly a spectacle for all the senses. If you wish to have an outfit made up at a tailors follow in the footsteps of actors Judi Dench and Bill Nighy to Gangaur Boutique, whilst Judi was also spotted shopping at Ganesh Handicrafts Emporium.
Word of advice, make sure you order your Indian visa well in advance.
Also to avoid melting in the heat or being lashed on during the torrential monsoon season the best time to visit weatherwise is between November and March.
Leela Palace is at www.theleela.com